3 NEW MBA Guides!
Posted on Monday, 13th January 2014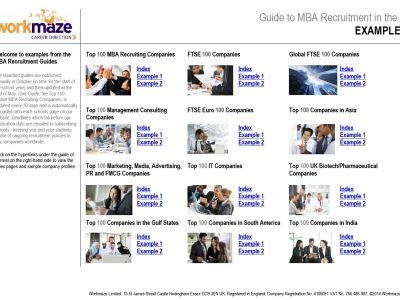 In response to market research and feedback from our customers, we have published three new guides which are NOW available! These are additional to the already hugely popular range of guides:
NEW Top 100 Companies in the Gulf States
NEW Top 100 Companies in South America
NEW Top 100 Companies in India
Top 100 Global MBA Recruiting Companies
FTSE 100
FTSE Global 100
FTSE Euro 100
Top 100 Companies in Asia
Top 100 UK Pharmaceutical & Biotech Companies
Top 100 Management Consulting Companies
Top 100 Maritime Shipping, Finance and Brokerage Companies
Top 100 Global IT Companies
Top 100 Marketing, Media, Advertising, PR and FMCG Companies.
You can view examples from each guide below. For further information or a price list, email info@workmaze.com.
Associated Documents:
Size: 2.81MB Type: PDF

Example entries from the Workmaze MBA Recruitment Guides.